Keller Engineers of New Jersey
Keller Engineers of New Jersey, LLC (KENJ) is a talented team of civil engineers and construction inspectors dedicated to providing exceptional service through innovative design, value-added engineering, and responsive project delivery.
Opened in March of 2017, KENJ is an affiliate of Keller Engineers, Inc. (KEI), a multi-disciplined, full-service civil engineering firm founded in 1991 by Joseph G. Keller, PE. KEI's corporate office is located in Hollidaysburg, Pennsylvania with branch offices in State College and Gettysburg, Pennsylvania.
Board of Directors
Leadership Team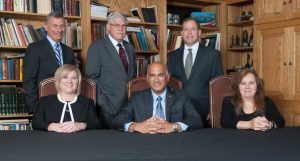 State of New Jersey Certifications
Small Business Enterprise (SBE) – Number: A0183-40
Minority Business Enterprise (MBE) – Number: A0209-07
Professional Registrations
Professional Engineer: New Jersey, Pennsylvania, Delaware, New York
Professional Associations
American Council of Engineering Companies (ACEC) – New Jersey

Executive Committee member

American Society of Highway Engineers

Involvement at the Section, Region, and National levels

Camden Business Association

Member of Board of Directors

Southern New Jersey Development Council

Member of Board of Trustees

March of Dimes

Member of Board of Directors
Supporting KENJ are corporate team members including engineers, landscape architects, environmental specialists, technicians, surveyors, and administrative staff.
Primary Services Offered:
Construction Management
Construction Inspection
Contract Administration
Constructability Reviews
Transportation Engineering Design (Highway, Bridge, Railroad)
Building Structures Design
Quality Assurance/Quality Control Management
Cost Estimating
Project Scheduling
It is my pleasure and honor to acknowledge the relationship that Remington & Vernick Engineers, Inc. has developed with Keller Engineers of New Jersey, LLC. I'd like to share one experience that RVE has had with Keller regarding our Camden City ADA Ramp Improvement Project. The inspector was well versed in various areas of construction. The attention to detail that he demonstrated on as-builts, and recordkeeping were excellent, and he was very knowledgeable with meeting all ADA requirements. He developed a great working relationship with both our resident inspector and construction manager, which alleviated many forms of miscommunication which may occur in the field. Joseph R. Ragusa, PE Senior Associate Department Head Infrastructure CM/CI Remmington & Vernick Engineers, Inc.